Animal Free Treats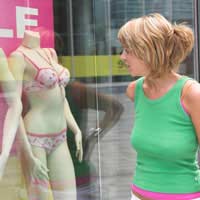 Ensuring everything you consume is animal and cruelty free is very worthy but can sometimes seem a bit of an uphill and arduous task. Where's the fun to be had in constantly scouring the labels on supermarket shelves or reading the ingredients on a bottle of shampoo, or searching the internet for shops selling vegan or animal friendly products?From time to time we all need to indulge ourselves and have the odd treat, but what can we buy if we fancy some fun food or goodies but still hope to avoid anything with animal ingredients?
Perhaps the secret to treating yourself without having to stop and think about being animal friendly, and yet still remaining true to your animal free ideals, is to think laterally about the kinds of treats you can enjoy. When you begin to think about the ways you can splurge a little and give yourself a well-deserved treat, you'll see there are literally hundreds of things you buy as a little pick me up.
Lingerie
Lingerie is a great treat for women, and unless you like silk underwears, it's very unlikely that any lacy underwear is going to be bad news for animals. Not only there but there's an increasing number of 'green' lingerie shops springing up where you can buy knickers made from fairly traded cotton or other ethically produced underwear. Definitely one to look out for.
Plants
Lots of people like flowers or plants and it's pretty much guaranteed that they're going to be animal friendly. A pot plant or bunch of flowers can brighten any room, and many green plants help remove airborne impurities and increase the oxygen in a room. If you have concerns about the possible use of bonemeal in the compost, a new vase or pot to display plants you've grown yourself make a nice treat.
Beauty
If you'd like a beauty based treat but don't want to worry about the ingredients in cosmetics, decorative hairbands or clips are a fun way to make yourself look pretty. Or, a new make up bag or vanity case are a great way to treat yourself and store all those cruelty free products you've found.
Stationery
Some people like stationery, and for an animal free treat it might be nice to get yourself a new notebook or diary, or beautiful set of paper or cards and envelopes. You could even find cards that spread the animal free message to your friends and family, or, buy a decoupage set and make cards yourself on recycled paper.
Food
Some luxury food items are a great way to give yourself a yummy indulgent treat as a pick me up. Good quality chocolate often doesn't contain dairy products and so is completely animal free. (Check the label.) And lots of chocolate is now organic and fair traded making it very eco friendly. There are dozens of websites stocking wonderful vegan boxes of quality high cocoa solids chocolate. Just because you're avoiding animal products doesn't mean you have to miss out.
If cake is your thing, it's also possible to buy some delicious and beautiful vegan cakes in all shapes and sizes. Some websites will deliver the cake of your choice direct to your door.
Art
Perhaps you feel a need to indulge your love of the arts to treat yourself. A book, CD, or DVD, or a trip to the cinema or theatre are all great ways to indulge yourself and all animal free, or you could buy yourself a picture or a painting to brighten your room and keep you feeling cheery all year round.
Soft Furnishings
Other items you can use to cheer up yourself and your home, provided you steer clear of animal based fabrics, could include a new rug, cushions, or throw for your sofa. These small items of soft furnishings can bring a new feel to the familiar and work wonders as a small gift to yourself.
Living an animal free life might sometimes feel like you're denying yourself things you used to enjoy, and perhaps the effort to avoid animal products can seem like a struggle, but it's easy to treat yourself and still be animal friendly.
ANIMAL FREE ZONE IS FOR SALE.
This website is for sale [more info].
You might also like...