Easy Vegan Cake Recipe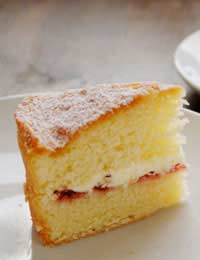 With eggs and butter constituting the basis of thousands of cake recipes, making a vegan cake can, at first glance, seem like a difficult undertaking. The good news is that there are many delicious and easy vegan cake recipes that can satisfy even the sweetest of pallets – no need for eggs, butter, honey or other animal products needed. In this article we've provided the most simple of cake recipes to get you started – an easy sponge cake.
This sponge cake recipe can form the basis of many other vegan cake recipes – all you need to do is add different vegan fillings (try vegan cream cheese fillings for a rich buttery-like twist) and toppings, or carob for some chocolaty goodness.
Replacing the Egg
Vegan cake recipes can seem so difficult because they omit an important factor in cake baking – the egg. Eggs act as a binding agent for all the cake ingredients. Without an egg or other binding agent, the cake just becomes heavy, lumpy and inedible. There are, however, many egg replacements that can be made for vegan cakes – these including arrowroot, vegetarian gelatine leaves, locust bean gum, xantham gum, agar agar and the aptly named 'vegan egg replacement' (such as silken tofu). Bananas and chocolate also make for great cake binding agents. Many of these ingredients are available from supermarkets and health food shops.
Replacing Butter or Spread
Although this recipe doesn't use margarine, as your vegan cake recipe repertoire increases, you may find that you need to start using dairy replacements. Replacing the dairy products in cakes is straightforward – many margarines are dairy-free but may contain trace amounts of whey or lactose. There are, however, many alternative vegan margarines that are readily available, including soya margarines. When using these margarines, to help the cake rise you may want to add an extra teaspoon of amount of baking powder too.
Equipment
Before you start baking your dairy-free no-egg vegan cake recipe, you'll need a few choice pieces of equipment, including a medium-large mixing bowl, a measuring jug, wooden spoon for mixing, two ten inch cake tins, greaseproof paper and cake cooling rack.
Ingredients
450g / 16 oz plain flour
50g / 2 oz soya flour
150g / 5 oz brown sugar
4 – 5 teaspoons baking powder
175g / 60 fl oz / ¼ pint vegetable oil
Water
Method
1. Pre-heat your oven to Gas Mark 4/350F/180C.
2. Grease your cake tins with vegetable oil or vegan margarine, adding discs of greaseproof paper to the bottom of the cake tins if desired.
3. Add the flour, soya flour and baking powder into your mixing bowl, and mix together to evenly combine.
4. Then add the vegetable oil into your mixing bowl, again folding together to evenly combine and making sure to keep the mixture as airy as possible.
5. Next, add in the brown sugar, mixing in evenly.
6. At this point, you'll need to judge how dry or wet your mixture is. The sponge cake mixture should have a 'dropping' consistency, meaning that it should be neither too runny or stay solid and not drop from your wooden spoon. You may find that you need to add some water – if this is the case, add a little water at a time until dropping consistency is reached.
7. Next, divide the mixture in half into the two cake tins.
8. Place in the middle shelf of the oven and bake for 30-40 minutes. Check the cake is cooked by pushing a skewer through the centre of the cake; if it comes out clean, the cake has been baked thoroughly. If it comes out with a bit of cake mixture on it, you'll need to bake your cake for longer.
9. Once the cake is baked, turn out from the cake tins and leave to cool on the baking racks.
Fillings and Toppings
The simplest filling for your easy vegan sponge cake recipe is to sandwich a generous amount of raspberry or strawberry jam between the two cake halves, and sprinkle the top of the cake with icing sugar.
But by adding just a few drops of vanilla essence, or the zest and juice of one lemon to your mixture, or even just swapping your jam filling for lemon juice mixed with vegan cream cheese, you can take your sponge cake recipe to the next level. And before you know it, you'll have a whole arsenal of vegan cake recipes at your disposal!
You might also like...