Vegetarian Pregnancy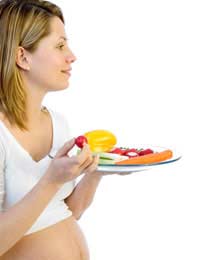 Being vegetarian is a healthy way to eat and if you understand a little about nutrition and eat a balanced diet, you won't have any problems or find yourself lacking any particular mineral, vitamin or other essential dietary nutrients.
Many people worry that vegetarianism is bad for pregnant women, but this isn't the case at all. Yes, pregnant women do need more iron, calcium and folic acid in their diets, but just simple tweaks to a vegetarian diet will ensure you have everything you need for a healthy pregnancy and a healthy baby.
The first thing to remember is that despite the old adage 'eating for two', it's really not necessary to stuff yourself. An additional 200 – 300 calories daily will provide your body with the extra energy it needs to grow a healthy baby. That's the equivalent of just two slices of bread and margarine.
However, there are some things to remember, and some dietary changes to make – just as you would if you were a meat eater.
Protein
Your body will need a little more protein every day. Just taking slightly more of the foods you're already eating should be enough. Protein is found in soya, pulses, grains, nuts, milk, eggs and cheese.
Iron
Iron is extremely important in pregnancy and even meat eaters find it hard to maintain enough in their diet when pregnant. Your doctor or midwife will do regular blood tests to check your iron levels and may prescribe a supplement. However you can do your bit by eating more foods that are high in iron like dark green vegetables and whole grains. Dried fruit like raisins and apricots are a great source of iron and make a handy snack to eat or add to muesli. Don't forget your body also needs vitamin C to release the iron, so drink a small glass of orange juice with your muesli breakfast, or include some tomatoes with your cabbage and broccoli. Try to cut down on tea and coffee, as caffeine and tannin can reduce the uptake of iron.
Calcium
It's essential to eat enough calcium to ensure the developing baby doesn't begin to take the calcium it needs from your own body. Cheese and milk are excellent sources of calcium, but you should be careful not to eat too much dairy. Whole grains, sesame seeds, green veg, almonds, yoghurt and tofu are all good sources of calcium. Dried figs and apricots are also high in calcium, so add them to your breakfast. Vitamin D is also important for calcium absorption, and is found in dairy products and margarine.
Folic Acid
Folic acid or Folate is extremely important to the early foetus and the recommendation is for women trying to get pregnant to take a supplement for the duration of conception to the end of the third month of pregnancy. Leafy vegetables, nuts, grains and fruit are a good source of Folic acid. Other B vitamins are also important, so yeast extracts should be a part of your diet.
Other Precautions
Vitamin A is not recommended in large amounts during pregnancy. This is not a problem for vegetarians as normal amounts of vegetables are fine. However, you should not take a multi vitamin supplement during pregnancy so as to avoid getting too much vitamin A.
Fluid intake is important. General advice is to cut down on caffeine drinks and avoid alcohol.
Certain bugs like listeria and salmonella are a real problem for pregnant women. For this reason you should avoid soft cheeses like Brie or Stilton and eggs should be thoroughly cooked – no soft yokes. Also, there is a slight chance of botulism in bags of lettuce and other pre-prepared leafy salads. Make sure you wash all your leaves properly before eating – even if they say they are already washed.
If you follow these simple guidelines you should have no problem with your pregnancy. You shouldn't feel you have to eat meat to get the nutrients you need, and don't listen to old wives tales about a vegetarian diet being unhealthy during pregnancy. Being pregnant is a wonderful experience, but worrying enough without feeling the pressure of Granny saying you need a good steak. If you have concerns about your diet, talk to your doctor or midwife.
You might also like...