Deciphering Food Labels for Vegetarians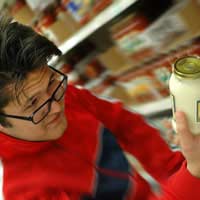 Knowing the names of animal based ingredients you are likely to encounter in your food may not be enough to keep you from inadvertently eating something that contains an additive that has come from an animal. With the use of vague terms like 'emulsifier' or 'flavouring' manufacturers are able to hide some of their ingredients. Similarly E numbers are a way of disguising the additives some of which may come from animals
Here's a guide to some of the things that may turn up in an ingredient list on a product label.
AlbumenIs the white, protein part of an egg and sometimes used for binding dry products together.
Animal Fats
Butter is strictly an animal fat, as is lard. Many products like biscuits, pastries and sponges may contain animal fats. Margarines, soups and stocks may also include it. Pure butter is suitable for vegetarians, however. When an ingredient is listed simply as 'animal fat' it has come from the skin or carcass, rather than milk.
Carmine (E120)
Is a red colouring derived from cochineal which comes from beetles.
Gelatine
Pork or beef gelatine is a setting agent commonly used in jellies, sweets, ice creams or anything where a fruit based product is required to set. Aspic is similar.
Glycerine or Glycerol (E422)
A liquid which can be used as a solvent for flavours. It sometimes comes from animal fats. Also found in some chewing gums.
Isinglass
A pure form of gelatine collected from fish and used to clear fermented alcohol.
L'cysteine hydrochloride (E920)
Used as an improving agent in white flour. It comes from animal hair or chicken feathers.
Lecithin (E322)
Fatty substance used in many baked products and confectionary. Can be made from soya but often comes from nerve tissues, egg yolk and blood.
Pepsin
Enzyme used in cheese making that comes from the stomachs of slaughtered animals.
Rennet
Another enzyme that comes from the stomach of calves and is used most commonly in the manufacture of cheeses. It is possible to buy vegetarian cheese, and rennet can be made from other enzymes that do not come from animals. The manufacturer of some very popular chocolate bars announced recently they were beginning to use animal rennet in their products. They've subsequently changed their policy to remain animal free.
Shellac (E904)
Comes from insects and used as a glaze on candied sweets.
Stearic Acid (E570)
A fat derived from cows, sheep and pigs.
Suet
Hard fat used in cooking – for example dumplings. Comes from sheep or cattle kidneys. A vegetable suet alternative is available.
Whey
Sometimes called whey powder. Often used to carry flavours – for example in crisps. Also found in biscuits, margarines etc. Comes from the cheese making process, which includes rennet.
Vitamins
Many vitamins like D or A are added to products like bread and breakfast cereals. Vitamin A comes from egg yolk or fish liver. Vitamin D3 (D2 comes from yeast and is safe for vegetarians) comes from lanolin which is sheep fat, or fish oil.
There are a number of other animal derivatives that you may find listed on some of your beauty products like shampoo, soap, toothpaste or other cosmetics and toiletries. These include: beeswax, propolis and royal jelly, which all come from bees. Chitlin, collagen, elastin, keratin, lanolin, musk, oleic acid, oleostearin, squalene, spermaceti wax, tallow, and urea all come from animals, many of which may be killed to collect the ingredient.
By becoming familiar with these common ingredients, you can begin to avoid them when you shop, and learn to easily spot them on packaging. With food products, a stamp from the Vegetarian Society will confirm its suitability.
You might also like...