B12 in the Vegan and Vegetarian Diet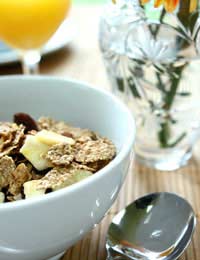 If you're thinking about converting to a vegetarian or vegan diet, or perhaps are reviewing your nutritional intake, then considering how to incorporate B12 into your diet is essential for your overall health. Vegan and vegetarian diets are not lacking in B12, provided that you plan your meals well and have a good overall understanding of sources of this structurally complicated vitamin.
What Is B12?
B12, also known as cobalamin, is responsible for maintaining the normal function of the brain, nervous system, blood formation and maintenance of normal blood homocysteine levels, as well as folate and B6. In fact, B12 is normally present in the metabolism of every cell within the human body. Low intakes of this essential nutrient can result in anaemia and long-term damage to the nervous system, as well as greater susceptibility to cardiovascular disease.
B12 is a unique vitamin in that it is absorbed into the human body in much smaller amounts – around 10 micrograms per day – than any other vitamin that we know of, and any deficiencies can take from around 5 years to become apparent.
It is also the only known vitamin that cannot be obtained from a healthy, varied plant-based and whole-food diet, as neither plants nor animals are able to independently construct it. Although herbivorous animals are able to bypass this problem by fermenting their own source of B12 in their digestive systems from bacteria contaminated foods, humans have no capacity to do this, which is why it is essential that vegans and vegetarians monitor their B12 intake carefully.
Where Do I Get My B12?
Regular intake of B12 is essential to optimum health, and there are a number of options available to achieve an adequate intake on a daily basis.
B12 can be produced industrially via a specialist bacterial fermenting synthesis, and as such can be included in 'fortified foods' such as breakfast cereals. Many soy products, such as soy milk, soy burgers and soy or vegetable margarines, may also be fortified with B12. Never assume this is the case though – always check the packaging or product labelling for confirmation that it's a fortified food.
Absorption rates of B12 are significantly higher via the mucous membranes in the mouth than in the stomach, so the ideal intake method of B12 is from chewable tablets or mouth sprays. B12 is also available in multivitamin tablets, nasal sprays and even transdermal patches. Mouth sprays and oral supplements can be found in most good health food shops or online via reputable suppliers.
If you would prefer to obtain B12 from your food, aim for around one microgram of B12 at least three times a day to ensure adequate intake. The UK Food Standards Agency advises that B12 vitamin intake for adults should amount to 1.5 micrograms per day, although absorption rates should also be taken into consideration, hence roughly one microgram of B12 per meal. It's also worth noting that high intake of B12 is thought to have no serious long-term effects. However, as with most foods, moderation is key to a healthy diet.
Vegetarian diet
For vegetarians, there are other ways in which B12 can be incorporated into the diet. This is because aside from meat and fish, B12 is also found in other animal products, such as dairy products and eggs, albeit in smaller amounts. For instance, whole cow's milk contains around 0.45 micrograms (µg) of B12 per 100g, 1 raw whole chicken's egg contains 0.89 micrograms of B12 per 100g.
Regularly including animal products, such as cheese, eggs and milk, in your vegetarian diet in moderate amounts will help to ensure adequate intake of B12, and can be included alongside supplementary vitamins, sprays or liquids. Elderly vegans and vegetarians, as well as those in care of vegan or vegetarian babies that are no longer breastfeeding, should seek advice from a health professional in relation to dietary needs.
You might also like...