Hidden Animal Products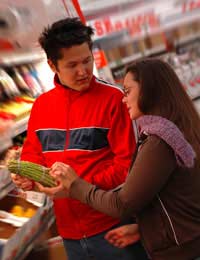 It can seem quite easy to make the switch to an animal free lifestyle and mostly that is true but if you're determined to keep animal products out of your diet there are some things you need to bear in mind to ensure you spot the hidden animal ingredients lurking on the supermarket shelves.
Most of the hidden animal products you are likely to encounter are ingredients that pop up in every day foodstuffs. The problem is some of them are in very unexpected places.
Gelatine
Gelatine is one animal product that's in fairly common usage. Sometimes pork gelatine, sometimes beef gelatine, it's a setting agent commonly used in jellies. Any trifle or other dessert containing jelly should be checked to see if gelatine is included. Gelatine can also turn up in sweets and ice creams and again you should read the ingredients list.
Rennet
Another common animal based ingredient is rennet. It's an enzyme that comes from the stomach of calves and is used most commonly in the manufacture of cheeses. It is possible to buy vegetarian cheese however, and rennet can be made from other enzymes that do not come from animals. Bad news for chocoholics came recently when the manufacturer of some very popular chocolate bars announced they were beginning to use animal rennet in their products. Public pressure persuaded them to change their policy to leave animal products out of their chocolate.
Animal Fats
Butter is of course an animal fat, so if you're being strict about keeping all animal ingredients out of your diet you will need to look carefully at any products that are likely to have been made with animal fats in them. This includes biscuits, pastries and sponges all of which may have butter in them. Not all bread is vegetarian either. Keep an eye out for the Vegetarian Society tick, which gives the official seal of approval, or a notice stating 'Suitable for Vegetarians' on the packaging.
Alcohol
Alcohol is another unlikely location for animal products. Part of the process of manufacturing beers, wines and ciders is clearing - or fining as it's called - and animal products are often used for this. Isinglass is a fish product used to make the cloudy parts of beer fall to the bottom of the barrel. Increasingly many lagers are passed through a chill filter instead, but sometimes another animal product – Glyceryl Monostearate – is used as a foam-control agent.
Wine is also subject to fining. In the past this was done with Ox blood – in fact you may remember a red wine called Bull's Blood. Today it is usually done with other animal products, but again it is possible to buy vegetarian wines. Most organic wines don't use animal additives, and some companies specialise in using alternative additives to clear their wines.
Other Additives
Foods like soup, or stews should be checked for containing fish or meat stock. Some cereals have vitamin D or A added which may also come from animals – like cod liver oil, for example. Some additives described in vague terms like 'emulsifier' (usually a fat), 'flavouring', Stearic Acid or Magnesium Stearate come from animals. And the red food colouring cochineal comes from beetles.
So there are very many ways in which animal products can sneak into our foods. If you check the ingredients list and find something you don't recognise, scour the label for the sign declaring it Suitable For Vegetarians, otherwise, it probably isn't.
Non Food Products
Animal products can also turn up in some unusual and unexpected places, and some are impossible to avoid. In motoring, for example, think chamois leathers. Anti freeze, brake fluid and tyres all contain animal by-products, but it's pretty hard to do much about those if you really need a car. Similarly all photographic film contains gelatine, and many medicines contain powder additives derived from animals, or the casings may contain gelatine. Some toothpastes contain glycerol which can come from animals. If you're taking a prescribed medication you shouldn't stop for fear it may contain some animal based ingredients.
It can be very hard to avoid all animal products, and most people find a place where they are comfortable to draw a line and try to avoid buying foods or other goods on one side of it, but won't beat themselves up if they have the occasional slip or later discover the cheese they ate wasn't vegetarian. Vegans will avoid milk, eggs, honey and other products along these lines, substantially narrowing the number of foodstuffs available to them, but vegetarians may be less worried about buying the odd quiche or sponge.
Find a place you feel comfortable with regard to animals products, and do some research of products you might like to avoid in the future. And remember to keep an eye on the labels and ingredient lists for some common pitfalls.
You might also like...