Easy Vegetarian Recipes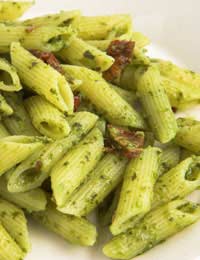 One of the best things about being vegetarian is how easy it is to cook quick, simple and delicious meals. No more waiting around to make sure your meat is safely cooked – you can be sitting down to eat in the time it takes to cook off some pasta.
Pasta is a great meal for veggies, because it's all about how delicious you can make the sauce, and vegetarian sauces are arguably much tastier than meat ones. In the ten minutes it takes for the pasta to soften, you can whip up a cheese based sauce, a tomato based sauce, or even just mix some garlic, olive oil and a little chilli to drizzle over some really good fresh pasta. If you can't be bothered to do that, a jar of pesto sauce makes for a tasty instant meal.
Ratatouille is a good, easy dish to learn. Chopping aubergine, courgette, onion, garlic and perhaps some peppers or any other vegetable you fancy, sautéing in a little olive oil then finishing in passata and some fresh basil. Served over spaghetti with a sprinkle of fresh parmesan it's a deliciously simple dish.
Pizza is another dish that's easy to make and enjoy as a vegetarian. Many great pizzas available in the shops are vegetarian, but it's easy to buy pizza bases and make your own toppings. You can go for an all out spectacular, laden with as much as you like, or keep it really simple. Sauté some garlic in oil and mix with a little passata to spread over the base. Arrange sun dried tomato and buffalo mozzarella before baking in the oven. When it comes out drizzle with a little chilli oil and top with a sprig of fresh basil. Served with a salad it's a scrumptious summer supper. Alternatively you can experiment with different cheeses like ricotta, gorgonzola, parmesan and mozzarella to make a 'quattro formaggi' pizza.
If you like chilli con carne with rice, a vegetarian chilli is very easy to make, just by adding more beans (and perhaps some lentils) and leaving out the beef. Alternatively, if you feel you need the texture of meat, try adding some Quorn or soya mince. These textured protein mince substitutes also mean you can still make other meat favourites like shepherd's or cottage pie, lasagne, bolognaise or stew.
Everyone loves a curry, and many curries work best with vegetables. If you don't fancy starting from scratch there are some fab curry sauces available in the shops. Make sure to check the label to confirm it's suitable for vegetarians. Alternatively buy a good curry spice to mix into a sauce of your own.
Curries are great for using up older vegetables, or if you haven't been shopping and are running a bit low on ingredients, because you can chuck just about anything in the pot. Lentils are great, mushrooms, courgettes, cauliflower – all taste good with a touch of curry spice. The best curries are slow cooked though, so this isn't one if you need a quick meal, but great to experiment with spices like cardamom, cumin, coriander, turmeric and paprika.
There are so many great possibilities for a vegetarian menu, and it doesn't have to be daunting. Cauliflower cheese, omelette, quiche, risotto, cous cous, pancakes – all can be quick and easily adapted. Experiment with different cheeses – feta, goat's cheese, ricotta; and different flavours – herbs, spices, chilli.
Learn the different textures you can achieve with beans, lentils and chickpeas. Being vegetarian doesn't just mean cooking with vegetables and it doesn't have to mean a restricted diet. In fact it can open a whole world of possibilities. Foods from all over the globe can be vegetarian, and it's a lot of fun trying new things. If you find you really enjoy cooking, invest in a good recipe book, or look for inspiration on the internet. The Vegetarian Society is one website with a range of ideas to try. As the different flavours come alive, no longer dominated by the meat on your plate, you may find you're a better cook than you ever knew.
You might also like...