Common Lifestyle Problems for Vegetarians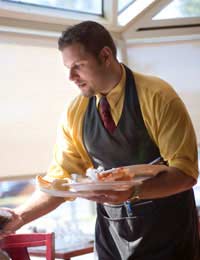 Being a vegetarian or a vegan and making the decision to avoid animal products has its own problems. Until it becomes familiar, every trip to the supermarket or outing to buy clothes means making the effort to look at labels and find alternatives. It's hard enough as a lifestyle choice without other people making it harder for you.
Nevertheless most people living an animal free lifestyle will fight a daily battle that the rest of us need never even contemplate. Here are some of the most irritating things that test the patience of even the most peace loving vegetarians.
Questions
Explaining to people why you don't eat meat. It's similar to that thing that thin people complain about when people comment on their size. We would never dream of exclaiming at an overweight person, so what makes us think it's not rude to tell someone they're skinny? It's the same with vegetarians. We never ask people why they choose to eat meat, but doubtless they've had to explain a hundred times what made them decide to give up meat. They don't wave a lettuce leaf in the face of a meat-eater, but 10 to one at some point someone has waved a chicken leg or a bacon sandwich in the face of a vegetarian as if they're missing out on something. It can get a little tedious. Be patient and shrug it off.
Menu
Having done the explaining about their ethics, the next task is to find something on the menu that is vegetarian or vegan. These days most restaurants do cater for vegetarians and will mark vegetarian items clearly, which is helpful. It's much harder for vegans who don't eat eggs or cheese to find something they can eat. And how do you ask the waiter if the vegetarian option is made with fish or meat stock, without looking like a nuisance? It's no wonder some would prefer to stay at home than face the possible embarrassment in front of friends of being unable to find something you can eat, or having to ask the waiter if the kitchen can cook you something specially. The trick is to ring ahead so the restaurant is prepared if they don't routinely offer a vegan option.
Vegetarian Option
The next most likely scenario, when you've explained to someone that you are a vegetarian or vegan is having to then explain that fish and chicken options are not vegetarian. As remarkable as it seems, for some reason many people assume that if you say you're vegetarian you will still eat fish - or even chicken. This can particularly be true abroad in countries where vegetarianism is rare. People just don't seem to understand that just because an animal is vegetarian, if you eat it that doesn't make you one! It can get very frustrating arguing with someone over why you can't be a vegetarian and eat fish.
Wine
Similarly, most people wouldn't think twice about whether or not their wine is vegetarian. A lot of wine is clarified with animal products or has animal ingredients added for flavour. It isn't that hard to find vegetarian wine these days if you're looking for it, but there's no guarantee that a pub or restaurant will have any, or that your friends will serve it at a party. The easiest way around this is to bring your own. In a restaurant this means having to pay corkage - and you may have to ring before hand to ensure they will let you. However, explaining to people you would rather not drink their red wine in case it has animal products in it, can be awkward and you need to be tactful to avoid people taking offence.
Gifts
It's the same story with gifts. Sometimes friends and family will forget that you've opted to avoid animal products. We've all faced that situation of opening a present only to find it's something hideous we would never wear and having to pretend we're thrilled. If someone buys you a present made from animal fibres or containing animal products you need to try not to be impolite and look grateful or people will be upset. To avoid this scenario it might be best to give people a list of things you'd like at Christmas or for a birthday, or to gently remind them beforehand that you can't wear wool / leather / fur or whatever. In the end they'll be grateful they haven't wasted their money and you've got something you're happy with.
It can be frustrating having to explain your lifestyle choices to people, but keep your patience and eventually it will become second nature to friends and family, the same as it is for you.
You might also like...