Animal Free Stem Cells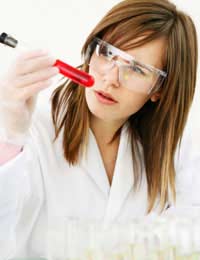 Undoubtedly, stem cell technology can be an emotive issue. But it's a growth area of medicine and research, and if scientists can learn ways to harness its potential, it could mean an end, or at least a successful treatment programme, for many fatal diseases. And now three teams of scientists have moved a step closer to that goal by eliminating the need for potentially harmful animal cells in the process.
What is Stem Cell Research?
Stem cells are the body's most basic building blocks. In an embryo, developing stem cells have the capability to become any kind of tissue - muscle, organ, bone, skin or nerves. It is because of this unique ability that many scientists believe we can use embryonic stem cells to treat all kinds of diseases. Potentially, for example, we could grow a healthy replacement for a failing organ, or we could repair tissue damage by injecting stem cells that will then mimic the cells surrounding them.
In fact we already use adult stem cells via the use of bone marrow transplants, to treat people with leukaemia.
Why is Stem Cell Research controversial?
Although adult stem cells are useful, their uses are limited. Far more interesting and with greater potential are the embryonic stem cells. These cells are often obtained from unwanted human embryos created by IVF treatment. In order to use the cells, the embryo is destroyed. Although these embryos were destined to be destroyed anyway, some people disapprove of the destruction of any embryo, and therefore lobbied governments not to continue stem cell research. Others are concerned about scientists moving beyond the cloning of single, or small groups of cells, to the cloning of an entire person.
It has now been shown it may be possible to grow embryonic stem cells without the destruction of the embryo, by simply removing a single cell, however this does not alleviate the need for cloning of cells which concerns some people.
Why are Animal Products Used in Stem Cell Research?
In order to grow stem cells they are placed in what's called 'feeder layers' where they are provided with nutrients, hormones, blood serum and growth factors, many of which come from animals - typically mouse embryos, and other animal derived serums.
By using animal products however, there is always a risk of the introduction of viruses or other potentially harmful agents which could infect the human patient. Now three teams of scientists have been able to grow and feed stem cells without using animal products.
What Does the New Process Entail?
In the new process one team put the embryonic stem cells on a human protein layer. The feeder layers of growth factor and other nutrients that would usually come from mouse embryos, were in this case supplied by cells of neonatal foreskin. Additional growth factors and proteins were given, all of human origin.
Another team grew the stem cells on human placental cells, rather than foreskin cells, and a third team managed to cultivate the stem cells without using any feeder cells at all. Their cells grew on what's called an 'extracellular matrix' formed of residues left over after mouse feeder cells were washed off the dish. By switching the mouse cells for human cells, again the concern over animal impurities is eliminated. This method also has the potential to eliminate any human viruses that might be introduced to the stem cells.
Embryonic stem cell research is progressing all the time and great leaps forward are being made towards a day when we may see treatments for some of our most debilitating illnesses and diseases. Animal free stem cells are one more step on this path.
You might also like...