Animal Free Children are 'Normal' Children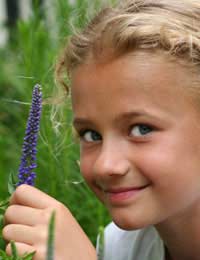 When we make the decision to go animal free, it's inevitable we may encounter some questions. Family and friends will want to know: 'Why don't you eat meat?'; 'What's wrong with leather shoes?'; 'Why don't you buy that washing powder any more?' and so on.
As adults we can explain why we've made these decisions to change the way we live. We can present evidence to support our decisions not to use products that have undergone animal testing or become vegetarian and argue our point of view to help people understand. Children are less equipped with the information they need or language skills necessary to explain these things and it may be hard for them to put into words for their friends why they don't eat sausages or ham sandwiches and why they don't visit burger bars.
It Can Be Hard Being Different For Children
For very young children the issue of difference is not so important, but as they get older they will face situations where they have to explain to their friends they're vegetarians and don't use animal products and why, particularly if they are singled out as different at school or at a party.
For this reason it's important to equip children with the ability to explain themselves to their peers. They also need to be able to speak up to an adult who is offering them meat, so as to ensure they receive an alternative and don't just go hungry, by letting people know they are vegetarian and therefore some foods are off limits.
What's a Vegetarian?
At some point you will have to explain to your child that in your family, everyone is vegetarian and this means no meat. It can be hard for very young children to understand that ham comes from pigs and burgers come from cows - especially if they've never eaten them before. However, you may be able to show them animal products in the fridge - like eggs and milk - and show them pictures of chickens and cows to explain that these things come from animals. With very young children it might help to visit a farm so they can see the animals for themselves. You can explain that some people eat cheese in their sandwiches, but other people eat meat and meat comes from animals like pigs, sheep, cows and fish.
If a child can make the connection between meat and animals - and are old enough to understand that animals have to die to make meat, that may be enough for them to understand why you don't eat it and are vegetarians. The problem may come if they come to explain this to their friends. Some parents may take exception to your child telling their friends that meat comes from dead lambs or whatever. A bit like revealing the truth about Father Christmas and the Tooth Fairy, some parents may not be happy if their kids come home crying that so and so told them their favourite sausages are really little Pinky Pig.
How To Say No Thanks To Meat
It may be best therefore to explain to your child that if they're being offered meat or jelly sweets or pizza or quiches that may have meat in them, it's polite to say 'no thank you, I'm a vegetarian'. If their friends say 'what's that?' they can say it's someone who doesn't eat meat and if they ask 'why?' to simply say they don't like it. With sweets or other things that contain animal products gelatine, you may have to accept that sometimes your child will forget and eat them - the lure of sweets can be very strong! Children may not understand until they're older why those things aren't vegetarian, when clearly they don't contain actual meat. It may be easier for them to explain to their friends that they're made with things they don't like to eat.
If your child is invited to a friend's house for tea, it's polite to let the parents know beforehand, that your child is vegetarian. Your son or daughter can explain it to their friend, but to make sure the vegetarian message reaches their parents, it might be best to make a phone call to let them know. If people seem put out, you can always offer to supply an alternative you know your child will eat or give them a list of things that both children will probably eat. A vegetarian pizza with beans and chips isn't so different from a meat one.
We Can Still be Friends Even If I'm Vegetarian
It's important to let your child know that just because people eat different things, it doesn't mean they can't still join in, have fun or be friends. Many people have different diets for health or religious reasons and differences should be celebrated. As they become a teen you may have to accept they will make different choices for themselves and that may include buying the latest leather trainers or other animal products. Or they may enjoy not following the crowd. So long as they understand the reasons for their choices you can be happy for them to follow their own path.
You might also like...