Raising Healthy Animal Free Kids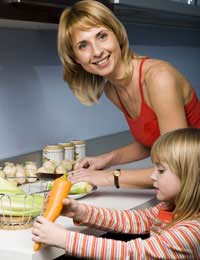 If you've made the decision to limit the animal products your child consumes, there are some things you will need to know to ensure they stay healthy.
A vegetarian or vegan diet can be a very healthy one, but children's bodies are different from adults because they are growing and developing. This means we need to pay careful attention to their diets to ensure they're getting the correct amounts of vitamins, minerals, protein and fats to keep them healthy and thriving.
Baby
A vegetarian newborn's diet will probably be identical to that of a baby born to a meat eating family. Breast milk is the best for all babies, but formula milk is carefully developed to ensure it has the right nutrients. It is derived from cows' milk and is therefore suitable for most vegetarians. There is only one vegan formula available and that is made from Soya milk. It is hard for vegan babies to get all the essential vitamins and minerals they need and Soya milk formula is not really recommended for babies under a year old. You should consult with a paediatric expert or GP before opting for this for your baby.
Weaning
When beginning the weaning process around six months of age, it is easy to introduce vegetarian and vegan foods to babies. The majority of their nutrients will still come from milk, but you can begin to introduce pureed foods made from rice, fruits like apple, banana, plum or mango and vegetables like carrot, parsnip, avocado, courgette and potato.
Calcium and Vitamin D
As the child grows older and relies less on milk, it is important to ensure they are getting enough calcium, vitamin B12, vitamin D, zinc, iron and protein in their diets. Calcium for the vegetarian baby is fairly easy to maintain with milk and other dairy products like cheese and yoghurt. Vitamin D is also found in dairy products. A vegan baby avoiding cheese and milk will need to drink fortified Soya milk to ensure an adequate intake of vitamin D. Calcium for vegan children can be found in non-dairy milks, dark green leafy vegetables, baked beans, ground almond and calcium set tofu. Wholemeal bread is also a good source of calcium, but a supplement may be necessary in some cases.
Iron
Iron is important to maintain in vegetarian children, as it is in adults. Dried fruit like raisins, which can be eaten as snack foods, (rather than sweets) are a good source of iron. Green vegetables are also iron rich, as are wholegrain cereals, beans, lentils and egg yolks. A high fibre diet is not appropriate for young children, so any cereals given should not be high in fibre as it inhibits iron uptake. Vitamin C is important for the absorption of iron, so fruit and vegetables are also important in the diet.
Vitamin B12 is found in fortified cereals and Soya milk and yeast extract. For vegetarian children it is available in cheese and other dairy products and eggs.
Zinc is important for cell division and growth and a high intake of wholegrain cereals and other high fibre foods can inhibit the uptake of zinc. Cheese, tofu, pulses, nuts and seeds are a good source of zinc. Pumpkin seeds are especially good.
Protein
All children need protein to grow tissue and muscle and high-energy foods to keep them growing. For vegetarian children, protein comes from eggs and dairy products. Vegan children can get their protein from tofu and other Soya products, lentils, beans and other pulses, seeds, nuts, cereals and grains. Peanuts should be avoided until children are three, especially if there is a history of allergy, or asthma, eczema or hayfever in the family. Other nuts can be given as smooth nut pastes and spreads to avoid choking.
Energy Foods
To give children energy, carbohydrate rich foods are important. Potatoes, rice and pasta are good. Children also need fats, so avocado, vegetable or seed oils mixed into lentils or other pulses, and smooth nut butters or sesame paste like tahini are great. For vegetarian children cheese is a good source of energy. Children should not be given low fat milks or other reduced fat foods until they're older than five. To keep energy levels high in small children who cannot eat large meals, healthy snacks should be given throughout the day.
Following these simple rules will ensure your animal free child will remain healthy and grow strong, just as they would if they were eating meat. It's not hard to keep children on a vegetarian or vegan diet – particularly when they pass a year of age - so long as you remember the main nutrients to include in their food.
You might also like...