How To Find And Use Animal Testing Free Baby Products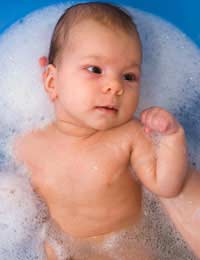 There are several good reasons for searching out animal free products (i.e. products free of animal testing) for your baby. Of course it means animals have not been harmed in the production of products for your child, but it may also mean you're avoiding harsh astringent chemicals that could be bad for their skin.
Harsh Chemicals And Your Baby
Even in the most commonly used and popular baby products - like shampoo, baby oil, body wash and so on - it's easy to find chemical ingredients like sodium lauryl sulphate. This chemical is often used in shampoos, bubble baths and toothpastes, but is also used in the car industry as an extremely powerful degreaser amongst other uses. It can be an irritant to the skin and since baby skin is extra sensitive, it could be argued it should be protected twice as much as adult skin. Babies also do not have the blood/brain barrier that develops in later life and chemicals that pass into the body through the skin are more likely to end up in the fatty tissue of the brain. It is unclear what effects these chemicals have on the body as they're stored in later life.
Other chemicals that commonly occur in baby products and that have been found in fat cells and have been argued by some to not be beneficial include parabens (methylparaben, ethylparaben etc. also parahydroxybenzoic acid and similar compounds), propylene glycol (which has an industrial use as anti-freeze but is found in some baby wipes) and the group diethanolamine, monoethanolamine and triethanolamine which are the subject of an investigation in the US and can be found in ingredients like Cocamide DEA, Lauramide DEA and Linoleamide MEA.
Do Natural Products Help Your Baby?
By using more natural products that do not contain ingredients that are free of animal testing, you are more than likely to also be avoiding some of these strong chemicals, however, it is always wise to read the ingredient list on anything you will be applying to your baby's skin.
Bathing and Nappy Rash
Newborn babies are pretty self-cleaning and do not need constant bathing. Cotton wool and water is more than adequate for nappy changes and keeping them clean and frequently changed should help avoid nappy rash. The best cure for nappy rash is fresh air and no nappy and twenty minutes without a nappy should see the rash diminish dramatically without the need for nappy creams. Barrier creams are no longer recommended by health visitors for keeping nappy rash at bay from your baby.
When it comes to bathing, a simple sponge bath in lukewarm water, followed by a drop of olive oil will keep baby's skin clean and moisturised. It is no longer recommended to use talcum powder on small babies.
Cruelty Free Products And Your Baby
As they get older babies do get dirtier and will need more washing - especially if they get food in their hair. The BUAV (British Union for the Abolition of Vivisection) publishes a Little Book of Cruelty Free, which lists all the suppliers of cosmetics and toiletries that have not undergone animal testing and it is available free by post. You can also look out for the leaping bunny mark on products, which is certification a product is free of animal testing. You can also do a search for cruelty free companies with GoCrueltyFree.org.
You don't necessarily have to visit your health food shop or scour the internet for baby products and toiletries with a good animal testing record. Co-op and Sainsbury's own brand baby products are recognised as animal testing free, as are Waitrose and Weleda. Green Baby have a big range of products specifically designed for babies. Other recognisable names include Molton Brown, Neal's Yard, Green People, Nectar, Honesty Cosmetics, Lavera and Kobashi Pure Essential Oils. There are also several new companies set up by mums who wanted animal testing free products for their babies, which were made with natural, sometimes organic ingredients. Little Me Baby Organics are sold in Boots amongst other places and are made with gentle, certified organic ingredients. Some mums believe that using more natural products on their babies' skin helps prevent eczema. Whatever the case, toiletries made from natural ingredients rather than petrochemical or other man made chemicals must be gentler on newborn sensitive skin.
As well as toiletries, animal testing free cosmetics for babies make sense on many different levels. Not only are they kinder on the environment because they tend to use less man made chemicals, they're kinder on your baby's skin and of course they're animal friendly too.
You might also like...