Is Soy Milk Good for Me?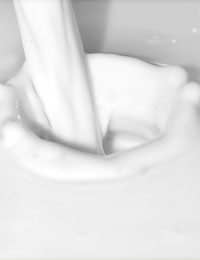 Sometimes the essentially 'simple task' of eating a healthy, balanced diet can seem difficult; like fighting your way through a tangled web of food-related information. Take the humble egg - once lambasted as a one-way ticket to bad cholesterol and heart problems, but now exonerated once again as a wholesome 'good' food.
Soy milk is another food that's currently loved and loathed in equal measures. Although celebrated as an excellent diary-free, low-fat, cholesterol-busting alternative to cow's milk, there are still rumblings of dissent regarding its nutritional values and related health issues.
But why not take a look at the current facts, figures and information on soy milk yourself, so that you can make up your mind as to whether it's something that you'd like to include in your diet.
Soy Milk and Cow's Milk
Obviously, the main difference between soy milk and cow's milk is that soy milk is procured from the soybean, whereas cow's milk (predictably) is produced by a cow! Soy milk is a popular alternative to cow's milk for vegans and many vegetarians. People with lactose intolerance or allergies may also opt for soy milk, as it is free from lactose (milk sugar). Many types of commercial soy milk are now also fortified with extra calcium and vitamins.
However, it should be noted that soy milk is not deemed suitable for consumption by infants, as it contains an 'anti-nutrient' that restricts the absorption of certain vitamins, including calcium, that can lead to nutritional deficiencies in children.
Processing
One of the main differences between the two types of milk is the process involved in making them suitable for human consumption. Although most cows' milk is now pasteurised before being sold, milk from a cow can be drunk 'raw', straight after milking. The soybean, on the other hand, is a legume that cannot be eaten raw. There is a fairly extensive process required to 'extract' the milk from the bean and make it suitable for human consumption.
This process basically involves removing the protease inhibitors present within the soybean that make eating them raw (on a regular basis) harmful to the liver. Soybeans need to be soaked, wet-ground with water into a puree, before being boiled for a specific length of time. Any soy residue is then removed. Boiling the pulp or puree helps to not sterilises and improves the flavour, but also boosts the nutritional content of the beans. This deactivates the trypsin inhibitor – soybeans contain this chemical which prevents the breakdown of the enzyme trypsin, which in turn aids the breakdown of essential proteins during digestion.
Nutritional Values
Interestingly the monosaturated fat and protein content of both soy and cow's milk are on par. Soy milk itself is a fantastic source of high quality protein. Some of the isoflavones absorbed in soy milk protein are thought to help lower cholesterol. However, it should be noted that research to date has found no evidence that drinking soy milk will help to increase levels of 'good' cholesterol. Soy milk also contains significant levels of Omega 3 fatty acids, which are currently thought to possess a plethora of health benefits.
Many diabetics may also choose to swap to soy milk, as it contains more complex carbohydrates, which release sugars relatively slowly. This makes it lower on the Glycemic Index. As soy milk is less likely to over stimulate blood sugar levels, it's a far more suitable alternative to cow's milk.
Why GM?
Some soybeans used to make soy milk have been genetically modified. In part, this is to remove enzymes present within the beans that cause the development of an unfavourable flavour during the heating process. Genetically modifying foods has long been deemed a controversial process, and many people may opt not to drink soy milk from genetically engineered soybeans. It is thought that the vast majority of soybeans used in soy milk production will be GM. If in doubt about the GM status of your soy milk, contact the brand's consumer careline to find out more.
Other Health Issues
There have been a number of studies into the long-term effects of drinking soy milk, including its effect on hormonal balance and relation to fighting cancer. Many studies are still undergoing extensive research. However, one particular study claimed to have linked a reduction in sperm count in men that consume around half a portion of soy products per day. But subsequent research has revealed thus far that it's in fact an increase in the amount of ejaculate that lowers the concentration of the sperm.
There's no doubt that if drunk in moderation, soy milk and soy milk products can prove to be a beneficial and tasty addition to your diet. But if you have any concerns or further questions about how you can incorporate soy milk into your diet, the best advice is to speak to you doctor who will able to help you tailor the best nutritional diet for your needs.
You might also like...