Animal-free Ethical Banking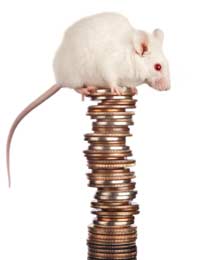 There are variety of reasons why people choose to adopt a vegetarian or vegan lifestyle, from an attempt to live 'more lightly on the earth', to animal welfare and sustainability issues, and more.
Many vegetarians and vegans find that their animal-free lifestyle affects more than just their dietary requirements and clothing choices – it also extends into other areas such as healthcare, transport, housing and finances. This is because the seemingly flippant choices that we make about the companies that we choose to invest in and spend our money with – whether it's a supermarket, a clothing company, a petrol station, or a bank – can have 'hidden' consequences.
For instance, a brand of eco-friendly household cleaner might be owned by a parent company that routinely tests its products on animals. Another example might be a supermarket that refuses to raise its animal welfare standards, or a brand or company that is known to undertake damaging environmental activities.
Whatever your reasons for adopting a vegetarian or vegan lifestyle, you can use your 'consumer power' to reflect your personal ethics. It is important to research each company or organisation that you invest in to ensure that your money isn't reinvested in dubious or unethical activities further down the line.
Ethical Banking
Banks are like any other company, in that one of their primary aims is to turn a profit. You invest your money in the bank, the bank invests your money elsewhere and a portion of the profit is released to you as an interest payment.
A bank may have thousands of thoughtful, ethical customers that use their services who may not realise where their bank is reinvesting its money. The bank may be lending money to corporations that supply armaments, rainforest destruction, third world debt and pipeline or dam projects that have a devastating effect on the environment.
Don't be surprised if you're not aware of your bank's lending actions. Many banks are still not transparent about their activities – in terms of banking and investment, transparency basically amounts to a bank disclosing details of its activities, such as its lending policies, and the kinds of activities and organisations it is investing in.
Particularly since the advent of the banking crisis, there have been calls for more transparency from banks. However, many continue to opt out, choosing to keep their business dealings private. There are some banks that have bucked the trend for non-disclosure and are embracing transparency and ethical banking activities. Banks such as Triodos, Charity Bank, The Ecology Building Society and the Co-operative Bank are all pioneering this approach to ethical investment and ethical banking.
How Can I Find Out About Ethical Banks?
The Ethical Investment Research Services (EIRIS) provides lots of up to date information about ethical banks and investment firms. If you want to find out more information on the social and environmental policies of different banks, and reporting standards, EIRIS provide useful factsheets to help you make your decision about the most ethical banking option for you.
EIRIS also provides detailed information on how to positively invest, and how your money can influence companies and organisations towards improved social and environmental behaviour. As an investor, you can either become a shareholder of a company, or simply choose to invest in a company that suits your ethical standards – in both circumstances, you are able to exercise your influence and help steer companies towards more ethical activities.
Fundamentally, the way in which we all spend our money and the kind of goods or services we purchase does and will have an impact on other people, animals, certain social groups and the environment. So whatever your reasons for becoming vegetarian or vegan, your 'consumer power' and 'investor power' can both reflect and reinforce your own personal ethics, resulting in a positive impact on the bigger picture of consumerism.
You might also like...