Animal Produced Fabric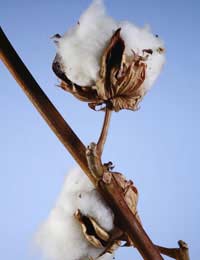 Clothing can come from a variety of different sources and all manner of animals are bred for their fur or skin, whether they are killed for it or not.
A brief A to Z of animal produced fabric would include:
Alpaca, which is a shaggy relative of the llama. Its hair is used for jumpers.
Angora, which comes from a specific breed of rabbit. They are sheared, but PETA (People for the Ethical Treatment of Animals) say they are strapped onto a board for the shearing process, and kept in small cages in the same way that rabbits farmed for meat are. The male rabbits do not produce as much fur as the females, so many are killed at birth.
Cashmere comes from a Himlayan goat, but very specifically only from the soft fur on their underbelly. The fur is combed during the annual moult and yields are very low. It takes three goats to make one jumper.
Down and Feathers come from ducks and geese (not chickens). Ostriches also provide feathers for exotic trim like boas. Although birds can be plucked for their down without killing them, more than 90% of feathers are a slaughterhouse by-product. In some countries, live geese have their feathers plucked and regrown three times before being killed for meat.
Felt, used in hats and so on, usually comes from wool, but sometimes fur. Often rabbit skin is used for felt hats.
Fur comes from a variety of animals, which are hunted by trapping, or farmed. In some countries, even cats and dogs are killed for their fur. In the case of trapping, often the wrong animals are caught, and discarded as of no use to the fur industry.
Leather and suede comes from a range of skin and scale creatures including cattle, snake, alligator, kangaroo, ostrich, lizard, seal, snake, deer and crocodile. Some animals are skinned alive for their hides.
Mohair comes from the Angora goat and is used for jumpers and other wool clothes.
Silk is the product of the caterpillar of the silk moth. Each caterpillar spins a mile and a half of continuous thread to make a cocoon as they prepare to metamorphose into the moth. Most are killed inside the cocoon by steam or heating in an oven, in order to keep the silk thread intact, as some of the thread is destroyed by the moth leaving the cocoon.
Wool in the UK is a by-product of the meat industry. The wool is coarse and used for carpets and similar items. Most of the finer wool used for garments comes from Australian sheep which are sheared annually, but PETA say the animals are often harmed in the process.
Alternatives to these fabrics are fairly easy to come by, and are often light and hard wearing. Cotton, linen, denim, ramie and rayon are all plant-based fabrics. Even hemp can be turned into fabric nowadays. But man made fibres have come on leaps and bounds in recent years and opting for synthetic materials no longer means having to wear nylon.
For leather, alternatives include rubber, and PVC and a new product called Vegetan which comes in a variety of different weaves to resemble very flexible and soft leather, or much tougher stuff for boots and shoes. Suedette is a synthetic alternative to suede and there are other faux suedes available. A website search is a good way to locate 'vegetarian' shoes or other garments that would normally be made of leather.
Faux fur is available for people who like the look of fur trim or other fur clothing, but since there are ways to avoid labelling real fur on clothes, you do need to check carefully to ensure it is not the real thing. Since fake fur can be very realistic, and real fur can be dyed a variety of colours, the best way to do this is to part the fibres right down to the base to see if there is skin or weave at the bottom.
Fleece is a wonderful new alternative to wool. It is warm and breathable and can be used in both clothes and blankets. Brushed cotton flannelette also makes warm bedding and shirts. A fabric called synthetic shearling is another good wool alternative, as are brand new materials called Tencel, which is breathable, durable and biodegradable; and a fabric mostly made from recycled plastic bottles called Polartec Wind Pro which is ideal for icy conditions and has four times the wind resistance of wool.
Although the labelling may not mention the specific material used, clothes should always describe the percentages of man made or other materials, so it should be easy to find woollen and leather alternatives. If you would like to find clothes made from specific fabrics like Tencel, you may need to use a specialist shop. The internet is a good way to locate shops, many of which do mail order, for stylish and well made animal free clothing and shoes.
You might also like...
Hello, I have owned and raised rabbits since I was young and have written papers and done many projects on them. One fact that I do not have to look up is that the gender of a rabbit is pretty much impossible to tell at birth. It takes weeks to months to truely know if the rabbit is a male or female. I do not know where you got you information for the angora bullet, but you may want to make sure its reliable. Sincerely, Lisha
Lisha
- 16-Apr-13 @ 2:47 PM